Shopping Cart
Your Cart is Empty
There was an error with PayPal
Click here to try again
Thank you for your business!
You should be receiving an order confirmation from Paypal shortly.
Exit Shopping Cart
​
​Nancy J Walton RMT | Energy ~ Sound ~ Color Therapies | Feng Shui
"Holistic health & wellness"
45 West 46th St., 4th floor, NY, NY 10036 267-221-7160
"How does one become a Butterfly? You must want to fly so much that you are willing to give up being a Caterpillar." ~Trina Paulus
'Hope For The Flowers'
Are you looking to further your career or wanting to change jobs? Times have changed. Jobs have become short-term (5 years vs. 30-40 towards retirement). As a Career Coach my finger is on the pulse of current trends.
Certified from Northampton's College Course in Career Development, with recent Workshop participation in Resume Boot Camp|Finding a Job After 50, (Job Search 101 BC Careerlink) and as a former Resume Writer for PR Dann Employment Agency, I can offer you the most progressive approaches to create your CV.
♥ Create your Resume~Career Objective|Marketing
♥ Stress Management|Conflict Resolution~Active Listening
I've given sound advice for some 'out of the box' entrepreneurs. As well as for three unique, individual up & coming businesses in Bucks County, PA that were at that time non-mainstream - a Lavender farm, an Ostrich farm & a Bison farm. I believed in each person, which is part of the journey and the result? Each one of them followed my advice & today are still a thriving, successful business.
Matching the Right People to Jobs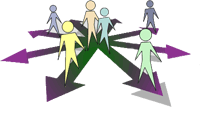 Do you work well with objects, tools, machines? Are you good with data, creative physical, biological or cultural phenomena? Have you found that you have a knack with words, music or other artistic media to create original products? Is working with other people in teaching, curing, leading or helping satisfying and rewarding? What about selling to others or leading people? Maybe your strengths are in written reports, business letters, data or keeping records.
As a Career Coach with years of experience resulting in satisfied clients, I can empower you to get ahead or begin a start up business and be successful at it!I'm here to tell you that you can plant the seeds for growth and personal achievement now! Together w-e can map out a plan that will lead to your own personal success providing tools and techniques that will help you master these challenging economic times!
Life Wheel Coaching is the perfect 'Feng Shui' approach for every aspect of living and works very well. It all requires you to participate in areas of your life to create balance & personal fulfillment. Sometimes we get lost along the way to where we think we should be going, should be doing. We feel dissatisfaction following in the footsteps of our father's or mothers desires - a mapped out life for us that was set in motion when we were young. It was what was expected or we thought it was what we were suppose to want. Now you are finding and realizing something is missing, that this isn't what bring you passion, joy or even satisfaction. It brings in the money, but it doesn't feed your soul.
/